Welcome to the CoDrive™ website
We invite you to learn about our innovative patented technologies..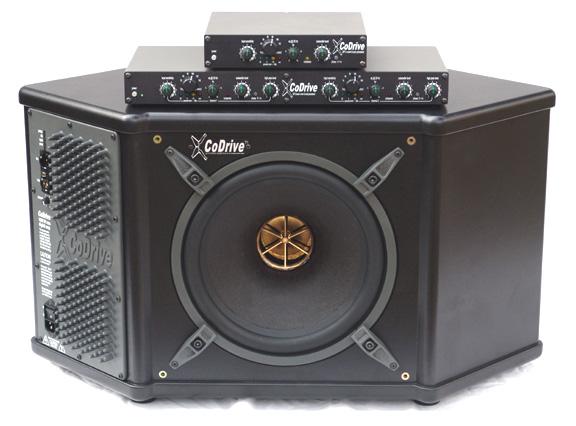 The CoDrive CB 1.2 (shown with SP1 and SP2 x-overs)
CoDrive news...
CoDrive is moving! We are currently shut down and in the process of relocating to our new building near Bend, Oregon. The machine shop has been moved, assembly and engineering will follow in mid May. The move into larger quarters will enable us to put some exciting new products into production. We expect to be fully operational by the end of June.
"NeoSym™" high power speaker motor granted US Patent# 6,778,677.
Motor boasts industry firsts including: dual opposed NdFeB magnet structures, field replaceable twin voice coil assy, distortion canceling symmetrical design and extreme power capacity. Make this new technology a part of your world class product! Contact Ron Coffin for details on our innovative licensing program.
1000 Watt CB 1.2 in production! Designed for corner placement, the enclosures are stack-able and can be flown.
The muscular performance of our patented Compound Driver and bold industrial design of our 1000 Watt RMS CB 1.2 powered enclosure make this low frequency system one of a kind. All the typical audio superlatives and verbiage can't accomplish what one simple demo will prove; the CoDrive CB 1.2 can't be described, it has to be experienced! Our outboard SP2 and SP1 x-over/processors have the connection options and control flexibility to correctly integrate the CB 1.2's into any home theater, high performance hi-fi system, studio monitoring, or high quality sound reinforcement installation. At home in both pro and consumer applications, this system does it all!
CoDrive SP2 and SP1 x-overs feature: input metering, two stage lo-pass filter, discrete frequency selector switch, +/- 6 dB low frequency "tilt", XLR and RCA jacks.
The SP2 is a dual channel (stereo) x-over/processor in a single rack space chassis which provides a low pass and a high pass for a true high performance (stereo subs) bi-amped dual channel system. The SP2 is easily inserted between the pre-amp and main power amp in a system with discrete components or in the "external processor loop" of a good quality receiver. The x-over circuit features a 2nd order state variable filter with optimized Q and an additional 4th order filter stage in the lo-pass above 180 Hz. This two stage lo-pass circuit gives a very smooth 12 dB/oct transition between the subs and the main speakers and isolates even the loudest high frequencies from the subwoofers better than a typical 24 dB/octave filter. In addition, the -3dB point is set by a rotary switch that selects 1% resisters to choose discrete x-over frequencies at 1/3 octave intervals (50, 63, 80, 100, 125, 160 Hz) with precise accuracy, instead of the usual dual ganged 10% pots in the typical "adjustable frequency" x-over. Controls include main gain (with LED metering), sub level, sub eq (+/- 6dB @ 20 Hz), high pass level and phase.
The SP1 is a single channel (mono) x-over/processor which provides a lo-pass for one or more CB 1.2 subs used in a system with summed bass. Simply connect the input of the SP1 to the subwoofer jack on the back of your home theater receiver and connect the CB 1.2 sub to the SP1 with the supplied XLR cable. If your listening space is very large, or even more low frequency output is desired, additional CB 1.2 subs can be easily "daisy chained".
The inputs of both the SP2 and SP1 accept XLR, 1/4" TRS (balanced) , 1/4" mono and RCA cables. The low frequency output connection is by XLR cable (supplied). The high frequency output of the SP2 has both XLR and RCA jacks.
Neo-Sym™ Competition Auto Subs to be in production this year! We are looking for manufacturing and distribution partners.
You can use the blue menu bar on the top of each page to navigate the site.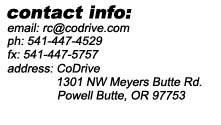 a CoDrive sub combines performance and versatility Click Here to Send E-mail to CoDrive™!